Paradine is named from eCl@ss officially eCl@ss Implementation Competence Center. We offer consulting and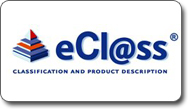 implementation support in all phases of the introduction of eCl@ss in your company. We guide you from conception to going live with eCl@ss and provide you with our experienced team to implement eCl@ss efficient and sustainable in your company.
An implementation of eCl@ss within an organization is always connected to specific goals like reducing costs or enhancing business processes. eCl@ss can support cost reductions in procurement as well as harmonization of material data or the provision of product data for customers.
Before starting an eCl@ss implementations project the requirements and goals have to be defined and internally aligned.
Paradine offers consulting and implementation services in all phases of the introduction of eCl@ss in your organization. We support you from the conception and design phase to going-live as well as in the ongoing maintenance work. Our experienced and highly motivated team ensures an efficient future proven implementation.
We offer to you:
Consulting, conceptual support and guidance in the implementation of eCl@ss
Support in the implementation of corporate-wide and system spanning master data management based on eCl@ss
Services for classification and consolidation of your material data
Services for data-cleansing and data-consolidation
Software-solutions for corporate wide classification of products and services
Services for the development and maintenance of electronic catalogues
Consulting for the connection to electronic market-places
Implementation and adaption of system-interfaces
Implementation of application systems (ERP-, PDM-, PLM-, CAx-systems)
Operation and maintenance of classification systems
Project management
Benefits of eCl@ss using the example of AT&S AG
Paradine supported AT&S AG, one of the leading manufacturers of printed circuit boards in Europe and India and with significant presence in China, in the implementation of eCl@ss for spare parts management. By implementing eCl@ss impressive results could be achieved.
Reducing the number of spare parts by 43,75%
Reducing capital lockup for spare parts by 20%
Reducing the number of suppliers by 47%
Return on Investment for the project was achieve within 7 month
Reference-Projects
AT&S AG
Carl Zeiss AG
PEPPOL Consortium (Europe-wide public procurement)
Siemens AG