Paradine is since 2003 active consultant for PROLIST and is developer and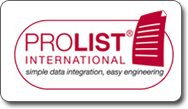 operator of the PROLIST server. We have significantly contributed building up the PROLIST XML format and the PROLIST data model.
For companies that intend to implement the PROLIST NE 100 standard, we offer consulting and implementation support.
Besides consulting, we offer with PRO-SPEC a PC application to create PROLIST NE 100 devices and process descriptions. With PRO-SPEC you can quickly and cost effectively join the NE PROLIST workflow!
For software companies and companies which want to use the PROLIST XML format into its own software applications, we offer a PROLIST API that supports different versions of NE 100 and reduces the implementation effort.
If you have further questions, don't hesitate to contact us.
Contact:
Info(at)paradine.at
+43 (1) 236 66 68 – 0